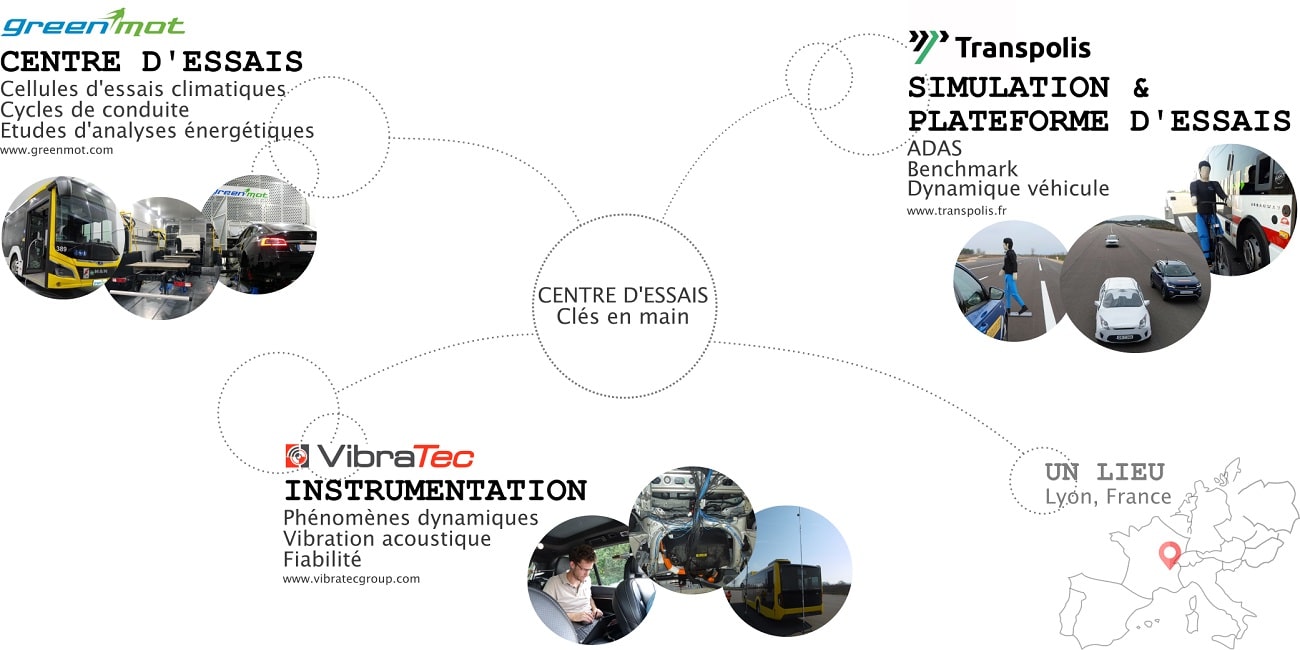 GREENMOT sets up a partnership with local experts to offer you a complete test center covering a set of vehicle tune-up services
Find a test center to carry out all of your vehicle tune-up tests.
Between the complex health context and the very rapid changes in the market, the development of vehicles has become a challenge at all levels. Carrying out tests in particular has become more complex with the difficulty of physically sending men and prototypes to test centers in France and abroad.
Today, we suggest that you entrust your tests to a consortium of test centers that can perform all the necessary services:
Tests in climatic cells (-48 ° C | + 55 ° C) for consumption tests, pollution, vehicle energy analyzes

Track tests to test ADAS functions and vehicle dynamics, endurance tests, reliability, performance
Vehicles, such as cars, heavy goods vehicles, buses and others, can be fully equipped with measuring instruments dedicated to diagnosis and vibration analysis, thanks to the Vibratec expertise.
Find all these skills and facilities in one central and attrative geographic location: Lyon in France.
We work with your teams on site or remotely using the tools we have put in place to digitize the service.
TRANSPOLIS
Transpolis offer two test center for vehicle dynamics and new mobility systems, such as: vehicles fitted with ADAS, automated and connected vehicles.
Summary of the testing facilities:
ADAS expertise
Engineering and testing in simulation and proving ground. Transpolis is the unique test center including a connected city with real dimensions.
Vehicle dynamics
Large tracks: highways, ring road, rural roads (wide curves)
Speed ring / Durability tracks / Gradients / Handling track (series of curves for 820 m) / Diverse obstacles.
NVH Comfort
Acoustic tracks (ISO 10844 accredited in La Valbonne proving ground)
Several road environments / Cooling ford / Various type of soil (asphalt, concrete, graver, cobblestones…)
VIBRATEC
VibraTec, expert in structural dynamics, noise and vibration, is developing its business in industry, oil and gas, automotive, rail and aeronautics. It is a key player in innovation in vibration analysis and noise measurement.
VibraTec uses state-of-the-art tools in acoustics, vibration and mechanical reliability to deliver, after diagnosis, results and adapted solutions with high added value. Its recognized experience in understanding the physical phenomena of infrastructures allows for mastery of the process from design to commissioning.
VibraTec notably presents expertise in vibration diagnosis, measurement and analysis – modal analysis, acoustic measurement – which makes it possible to understand and resolve vibratory, acoustic, speed, force or deformation issues on existing products.
The company carries out appropriate measurements on the vibratory dynamics of structures allowing the understanding of the physical phenomena in play, formalized by a diagnosis: temperature, stress, speed, vibration, noise, force or displacement.