"Human driver" drivability style
Perfect repeatability on specific and regulatory testing
Mechanical
Vehicle seat mounted with modular actuators (<10 kg each) designed to be installed by single operator
Compatible with all passengers car configurations :

– Internal Combustion Engine /Hybrid / Electric powered vehicles
–  Mechanical / Automatic Gearbox
–  Left / Right Hand Drive

Control
Specific GREENMOT algorithm developed to provide :

–  High accuracy speed following
–  "Human driver" drivability style
–  Perfect repeatability
–  Robustness to parasitic perturbations

Automatic vehicle performances Learning sequence
Stand-alone system
Automatic control mode for specific or regulatory road cycles
Automatic emergency shut down
Endurance – Performance – Emission – Climatic – Automatic testing
Internal combustion engine / Hybrid / Electric – Automatic / Mechanical gearbox
Since 2012, GREENMOT Robot driver has been developed for Vehicle Energy Management testing operated in GREENMOT automotive climatic test cell. These tests require high repeatability for testing correlation.
Thanks to its specific algorithm, the robot driver provides high accuracy speed profile, "human driver" drivability style and robustness that is mandatory for all emission and fuel efficiency developments.
GREENMOT Robot driver is able to operate the following kind of test :
Emission test
Consumption test
Vehicle Energy Management test
Endurance test
Climatic test
Transmission & Powertrain test
Correlation campaign
R&D vehicle test
Hybrid & Electric vehicle test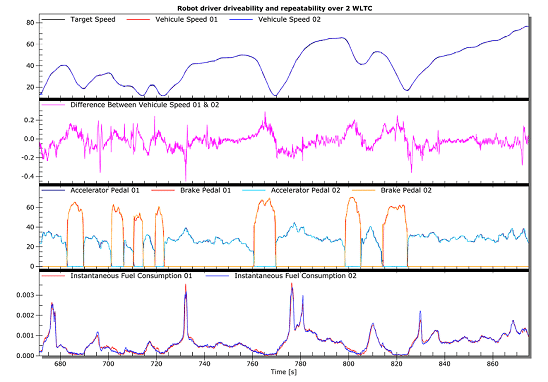 These tests can also be performed with thermal fluid regulation.
GREENMOT maintains a policy of continuous research and development and specifications are subject to optimization without notice.