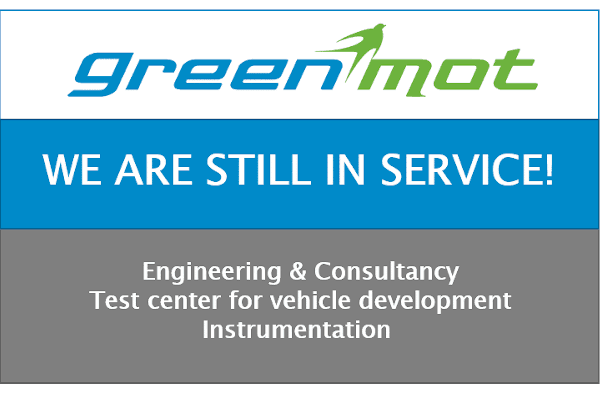 The actual context
Following the announcement from the French President March 16th 2020, and the consequent measures issued by the Government to fight Covid-19, we would like to inform you about the situation in our test center.
With a sense of responsibility and in accordance with government regulations, we have implemented procedures within GREENMOT to ensure the monitoring of on-going projects, while protecting the health of our customers, suppliers, team and our community.
The measures we follow
Remote working has been widely implemented, which allows us to maintain our commitment by your side on your development projects. Our design office is open and remains at your disposal during normal office hours. Moreover, the test facilities remain open and the test programs continue, but we ask you to agree with your contacts on how to access and make the vehicles available: our operating methods have in fact been adapted to "barrier measures" and we kindly ask you to respect them scrupulously.
Video calls, phone calls and emails will therefore be privileged for the coming weeks. By adopting these restrictions and measures, we are more than ever involved to continue serving you and building your future.
We prepare tomorrow
At the same time, our team is mobilized to prepare recovery activities, as soon as the calendar and government instructions allow. Operations will then be restarted immediately.
We are aware that this period is an unprecedent for all of us. We are convinced that a sense of responsibility, mutual aid and collaboration will be the keys to succeed together and remain optimistic about the outcome of this health crisis.
We remain at your disposal for any exchange, call us at +33 4 74 66 62 32 or send us an email.