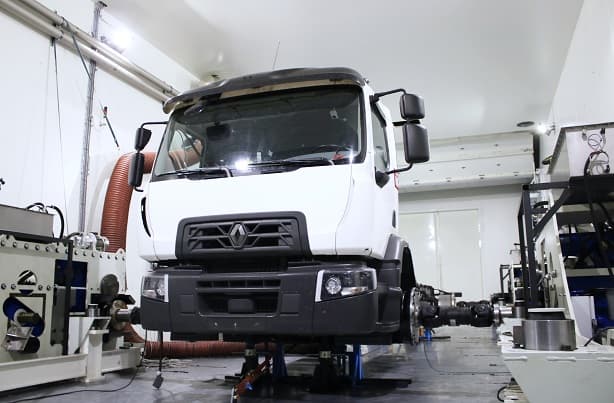 Controlling the test environment for better repeatability
Among the many necessary conditions for carrying out tests, repeatability is a key element.  We have thus designed, at Greenmot, benches and equipment which allow us to control  all the elements of the environment which could disturb the repeatability of the tests and  measures: climatic environment, driving, road response to vehicle stress.
The complementary characteristics of the test cells with direct connection, the driving robot and the test procedure make it possible to master the test environment and then optimize the repeatability of measurements.
A study performed recently for one of our customer client demonstrates perfectly this observation.
USE CASE : Heavy Duty Truck
The vehicle involved was a DAF 13L Euro VI with automatic transmission. The original customer's need was to characterize the evolution of an heavy duty vehicle's fuel consumption following the integration of modified elements. The study has been divided into 5 phases ; the same protocol has been applied for each phase in order to get a high level of repeatability and generate data which are truly comparable:

THE DRIVING CYCLE
The characteristics of the dynamic test cycle custom-made and validated with the customer are:
> Total duration : 45 min with sections : 25% City / 25 % Urban / 50% Motorway
The cycles have been performed in the high power climatic test cell, with cold engine starts and warm engine starts.
POSITIVE ENERGY REPEATABILITY RESULTS –  Warm Engine Start Tests
Repeatability of mechanical energy measured at the wheels by the test cell torque meters.
Number of cycle : 39
Positive Energy Average (kWh) : 67.109
Standard deviation : 0.04
Energy Repeatability : 0.12%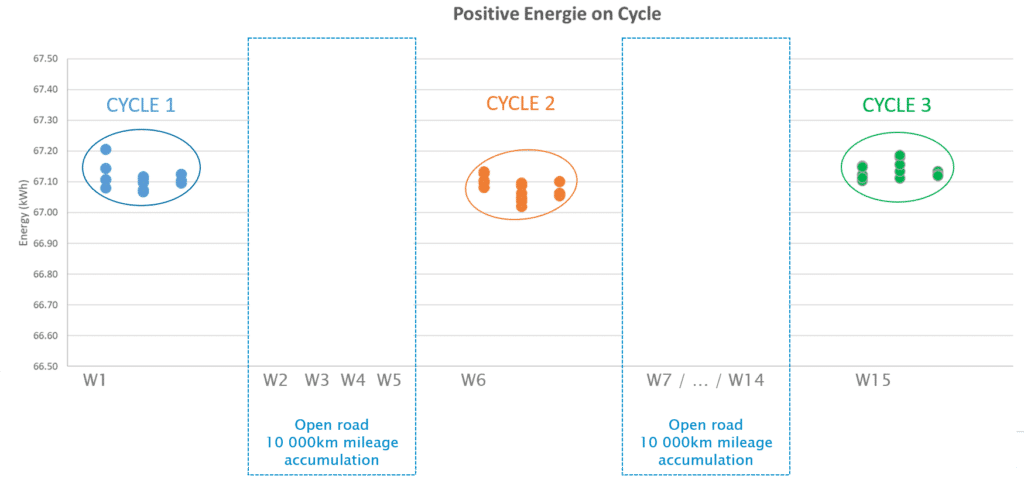 FUEL CONSUMPTION RESULTS (Litre) –  Warm Engine Start Tests
Repeatability of the fuel consumption measured by the AVL KMA module
Number of cycle : 39
Fuel consumption average (L) : 18.121
Standard deviation : 0.06
Fuel consumption repeatability : 0.70%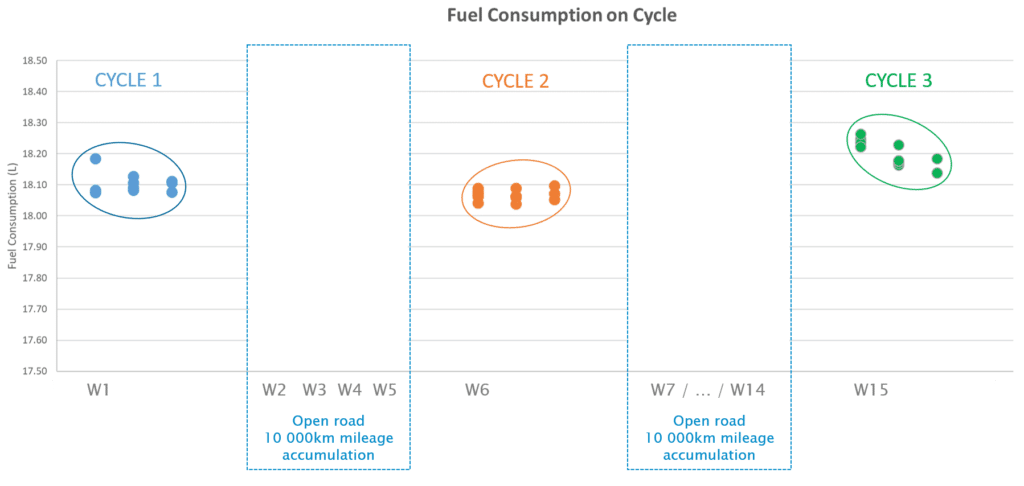 The data show a clear repeatability of the measurements between the cycles ran within the same test phase, and also a good repeatability of the results between the three phases.
SUMMARY
Between the speed profile to follow and the fuel consumption, the 3 main elements acting on the repeatability are :
the driving
the road simulation
and the tested powertrain itself.
Greenmot set up tool and methodologies in order to identify and quantify influence of each of these main elements and offer a repeatability <0.1% of vehicle consumption measurements on regulatory cycles for passenger cars and of <0.4% on heavy duty vehicles.


>> CONTACT US FOR FURTHER DETAILS